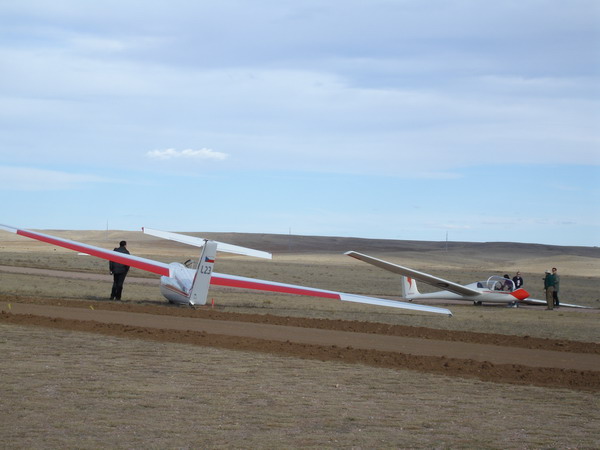 Colorado Soaring Association members are very fortunate to have several excellent sailplanes, a towplane and other airport equipment at their disposal. The web pages describe CSA's aircraft and equipment in detail. Links to manuals and other documentation are available. In some cases sailplanes have specific user guides and/or pilot notes which provide specific information which flight instructors and crew chiefs require pilots to know, observe and follow when using the aircraft or equipment.
General Aircraft and Equipment Care
While Crew Chiefs are generally assigned to each aircraft or piece of equipment, they are only responsible to arrange for on-going maintenance, annual inspections, and the larger issues concerning their charge. ALL CSA MEMBERS are responsible for the general, daily care of the aircraft and equipment they use. Following are some specific items each member should take care of when using CSA aircraft and equipment:
Sailplanes
Before the first flight of the day:
Carefully remove and stow the canopy cover in a clean/dry location. The best is to fold the canopy cover and put it in the baggage area.
Carefully clean the smudges off the canopy with plastic polish (Brillianaze) and a soft cloth. If there is any significant dust or dirt, first rinse off the canopy with lots of water and pat it dry with a clean soft cloth. Be very careful as canopies scratch easily.
Wash the glider by sponging/rinsing off the dirt with a water saturated sponge to minimize scratches and then dry with a chamois.
Install a fully charged battery.
Check for any weights the last pilot might have inadvertently left in the cockpit.
Execute your preflight checklist.
At the end of the day:
Remove any weights.
Remove battery and connect it to a charger.
Wash the bugs off the wing and tail stabilizer leading edges.
Ensure the canopy does not have any dust or dirt on it and put on the canopy cover.
Volunteer to wax the sailplanes with a soaring friend now and again.
Suzuki
Make sure there is gas in the fuel tank.
Make sure the shag rope is in good condition, and stowed properly.
Use 4wd-Low to tow out sailplanes; so wing walkers can walk comfortably, and damage to the prairie grass is minimized.
Only drive on the prairie grass to tow a sailplane. Otherwise, use the dirt road for getting to the flightline, since the prairie grass is very fragile.
Towplane
Help the tow pilot pull out and put away the towplane. It's more than a one-man job.
Make sure you check with the towpilot before helping to do anything, to ensure safety and don't cause any unnecessary damage.
Tractor
You must be approved and receive a tractor checkout to operate the tractor and it's equipment (see the Crew Chief).
Updated 05/24/2014