Solitaire XP Sailplane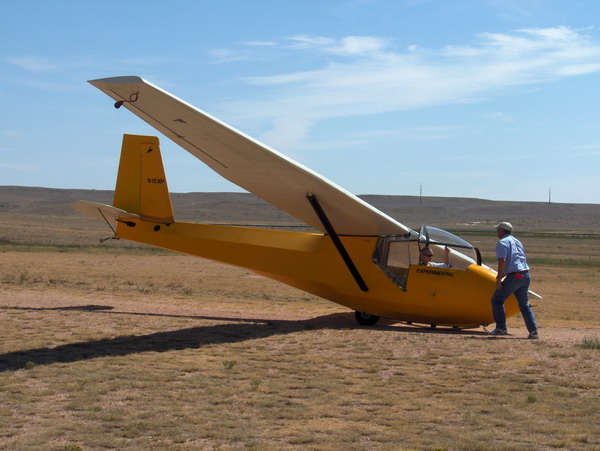 The "Solitaire" (a.k.a. Tweety Bird) is CSA's primary training sailplane for pre-solo student pilots. Student pilots learn all their basic gliding and soaring skills in this glider in preparation for their first solo flight. The Solitaire is also the preferred CSA sailplane for a student pilot's first solo and many subsequent solo flights (under the supervision of their instructor). Once a student pilot demonstrates advanced mastery of the Solitaire, their instructor will transition the student pilot to the Blanik for further training and soaring flights in preparation for the Private Pilot - Glider test.
The Solitaire XP is a bit of an unusual aircraft. It is one of a kind and built from the wings of the prototype Schweizer SGS 2-33 and a "homebuilt" fuselage which highly resembles a SGS 2-33 fuselage. Hence, why it is certified as an "Experimental" aircraft. Under this certification CSA cannot give scenic rides in this sailplane.
The following data is from SailplaneDirectory.com and represents optimum, ex. factory specifications for a Schweizer 2-33. For actual, current weights, etc. for N15XP see the CSA Sailplane Data page.
General Details
Manufacturer:
Schweizer/Homebuilt
Country Of Origin:
United States
Designer:
Ernest Schweizer
No. of Seats:
2
No. Built:
579
Design
Aspect ratio:
11.85
Airfoil:
NACA 63(3)-618
Structure:
Steel tube/fabric fuselage, aluminum wings
Performance
L/D Max:
23 @ 72 kph / 39 kt / 45 mph
MinSink:
0.85 m/s / 2.8 fps / 1.66 kt
Specifications
Specifications:
Span
Area
Empty Weight
Payload
Gross Weight
Wing Load
Water Ballast
m
ft
sq.m
sq.ft
kg
lb.
kg
lb.
kg
lb.
kg
/sq.m
lb.
/sq.ft
kg
lb.
15.54
51
20.39
219.5
272
600
200
440
472
1040
23.15
4.73
0
0
Updated 05/21/2014
---