Colorado Soaring Association's facilities reflect its underlying philosophy as a club. A large hangar houses up to a dozen gliders, an office, and a heated clubhouse with bunkrooms, showers, kitchen, and lounge. Members often spend the night at the field. RV and camping space is available, although the hookups are minimal, and the prickly pears can be a surprise when one rolls over on them in the dead of night.
Land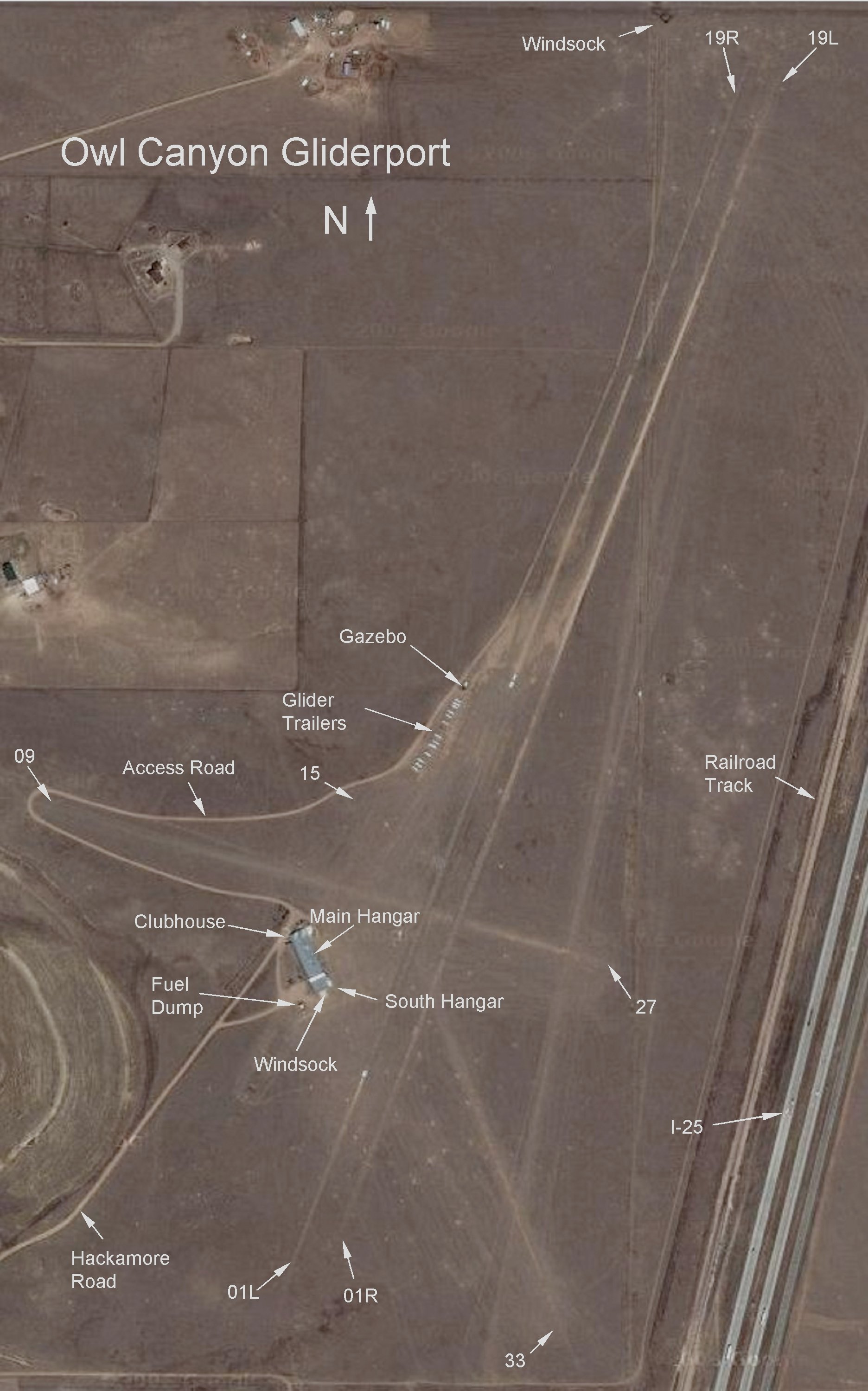 CSA owns 256 acres of land extending a mile from the north fence to the south fence, and from the east fence to a varying property line on the west side. The driveway is aneasement. The prairie grass and soil are very fragile, so driving on the property should be minimized.
The coordinates of the gliderport are 40o 48' 15" N, 104o 59' 00" W. The closest exits from I-25 are Exit 281 (Owl Canyon Road) when coming from the south and Exit 288 (Buckeye Road) when coming from the north.
The FAA airport designation for OCGP is 4CO2.
Runways
The prevailing winds in the summer are southerly, making runway 19 the primary runway. 19R is used for staging gliders and takeoffs. 19L is used for landing when 19R is occupied. Runways 27/09 and 15/33 are grass. Runways 19R/01L and 19L/01R are crossed diagonally at the north end by an old roadbed. This is just barely landable on the runway extensions, but everywhere else the old roadbed is un-landable! It is also un-landable at its intersection with the 09/27 runway extension.
Windsocks
Windsocks are located on the south end of the hangar, at the gazebo, and on the north fence just west of the extended 19R/01L runway.
Clubhouse
The clubhouse has a kitchen, lounge, bathrooms, and two bunk-rooms, one of which is generally used for storage. The last person to leave must close things up properly.
Gazebo
With most operations being on runway 19, the gazebo is a convenient place to hang out. Visitors should be directed there and away from runways.
Fuel Tanks
A single above-ground 2000-gallon tank stores avgas for club use only (no fuel sales). The electric fuel pump shutoff is located on the west wall of the south hangar.
Vehicle fuel is from a separate gravity feed tank in the fuel enclosure. The Fuel Crew chief (Bill Corbin) is responsible for maintaining adequate fuel in the tanks and is assigned by the Chief Tow Pilot (Curt Cole).
Updated 05/24/2014 (10/21/2004)