Grob G103 Twin II Sailplane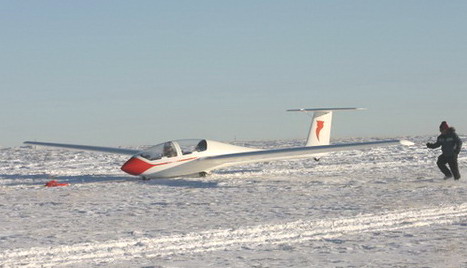 The "Grob" is mainly used by CSA members for one to two hour afternoon soaring flights within 15-20 miles of Owl Canyon Gliderport. Many times members will take family, friends or other club members on these flights. It is also used for advanced and cross-country training of club members. Many of the scenic rides given to non-members are done in the Grob. On occasion the Grob is disassembled and taken to other airports, usually in the Colorado Rockies, for members to enjoy the excellent varied soaring conditions available in the Colorado area.
The following data is from SailplaneDirectory.com and represents optimum, ex. factory specifications. For actual, current weights, etc. for N5462N see the CSA Sailplane Data page.
General Details
Manufacturer:
Grob
Country Of Origin:
Germany
Designer:
Burkhart Grob
No. of Seats:
2
No. Built:
549
Design
Aspect ratio:
17.2
Airfoil:
Eppler E 603
Structure:
GFRP and CFRP
Performance
L/D Max:
35:1 @ 105 kph /56 kt / 65 mph
MinSink:
0.75 m/s / 2.45 fps / 1.45 kt
Specifications
Span
Area
Empty Weight
Payload
Gross Weight
Wing Load
Water Ballast
m
ft
sq.m
sq.ft
kg
lb.
kg
lb.
kg
lb.
kg
/sq.m
lb.
/sq.ft
kg
lb.
17.5
57.4
17.8
191.6
368
811
212
468
580
1279
32.58
6.67
0
0
Updated 05/24/2014
---