Roladen-Schneider LS-4a Sailplane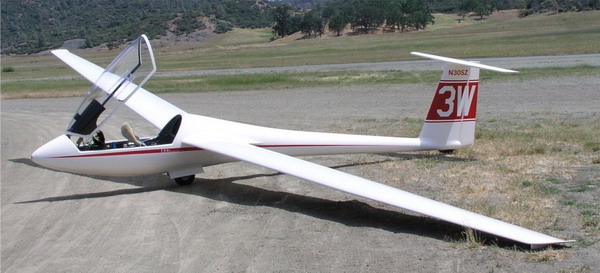 The "4" or "Three Whiskey" as it is also known, is CSA's only single seat sailplane. It is a fairly high performance sailplane and is a joy to fly both locally and cross-country. Three Whiskey is CSA's primary cross-country sailplane and many members fly it in pursuit of SSA badges. The LS-4a is a very docile, and comfortable sailplne to fly for long periods and many members have achieved their 5-hour Silver badge duration flight in this sailplane. LS-4s are widely used in European clubs because of it's flight characteristics and comfortable cockpit which make it suitable for even lower-time club members.
The following data is from SailplaneDirectory.com and represents optimum, ex. factory specifications. For actual, current weights, etc. for N30SZ see the CSA Sailplane Data page.
General Details
Manufacturer:
Roladen-Schneider

Country Of Origin:
Germany
Designer:
Wolf Lemke
No. of Seats:
1
No. Built:
~600
Design
Aspect ratio:
21.4
Airfoil:
Wortman Mod
Structure:
GFRP foam sandwich
Performance
L/D Max:
40.2 @ 102 kph / 55 kt / 63 mph
MinSink:
0.60 m/s / 1.97 fps / 1.17 kt
Specifications
Span
Area
Empty Weight
Payload
Gross Weight
Wing Load
Water Ballast
m
ft
sq.m
sq.ft
kg
lb.
kg
lb.
kg
lb.
kg
/sq.m
lb.
/sq.ft
kg
lb.
15
49.2
10.5
113
238
525
234
515
472
1040
44.9
9.21
140
308
---