Piper Pawnee Towplane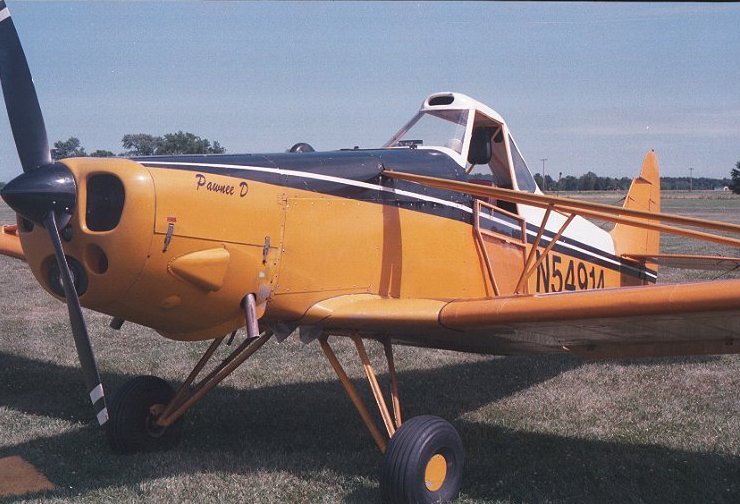 The CSA aero tow workhorse. CSA has separate aero tow rates for members and non-members and these can be viewed on the CSA Rates page. The towplane can only be flown by pilots authorized by the CSA Chief Towpilot and must be members of CSA. CSA member towpilots may qualify as a Towpilot/Instructor member.
The following data is from: Macdonald Aircraft Handbook,Macdonald,1964. p. 137. Standard configuration. The CSA Pawnee has some modifications including an engine upgrade to 250 hp.
General characteristics
| | |
| --- | --- |
| Crew: | One |
| Capacity: | 120 US gal (568 l) or 1,200 lb (545 kg) of chemicals |
| Length: | 24 ft 9 in (7.55 m) |
| Wingspan: | 36 ft 2 in (11.02 m) |
| Height: | 7 ft 2 in (2.19 m) |
| Wing area: | 183 ft² (17.0 m²) |
| Empty: | 1,457 lb (662 kg) |
| Loaded: | 2,900lb (1,317 kg) |
| Maximum takeoff: | 2,900 lb (1,317 kg) |
| Powerplant: | 1 x Lycoming O-540-B2B5, 235 hp (175 kW) |
Performance
| | |
| --- | --- |
| Maximum speed: | 102 kts (188 km/h) |
| Range: | 300 miles (500 km) |
| Service ceiling: | 13,000 ft (3,963 m) |
| Rate of climb: | 630 ft/min (192 m/min)(at MTOW) |
| Wing loading: | 15.9 lb/ft² (77.5 kg/m²) |
| Power/Mass: | 0.0810 hp/lb (0.133 kW/kg) |
Updated 05/24/2014
---